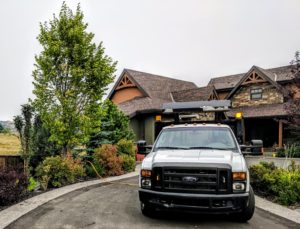 Though trees go dormant during the winter months, we work year round. Many trees should only be pruned while dormant in the Winter months. We also offer our ReLeaf Tree Fertilizer programs to help strengthen the root system and increase the overall hardiness of your trees & shrubs to help them thrive through the winter season and support healthy, new growth when the spring begins again.
Our ReLeaf fertilization program consists of two applications a year. One in the Spring (May) and one in the Fall (September). In the fall, we are not trying to encourage the generation of new foliage, we are supporting the all-so-important root system of the tree. Our Fall fertilizer uses a higher percentage of phosphorous and potassium, which are key to root development.
Contact us anytime today to enquire about our ReLeaf Tree Fertilization program, as well as any of the other tree care services we offer.
We Love Your Trees!