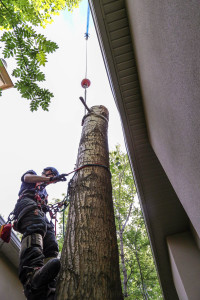 When considering the removal of a tree, Adair Tree Care should be your first choice when selecting a contractor. Whether or not a tree should be taken out is a tough decision and is often viewed as a last resort. Our Certified Arborists can help to inform you of all the circumstances before making this decision.
Tree removal can be extremely dangerous. We use approved climbing equipment to access the tree and have the knowledge and equipment necessary to safely remove trees of any size. Using the latest techniques to safely remove your tree piece by piece or ensuring the tree can be safely felled, we take precautions that are necessary to guard against property damage and injury. Large trees are rigged and lowered with ropes where required, preventing any chance of damage to homes or other valuables.
We are fully insured, our employees receive extensive safety training and are covered by WCB.