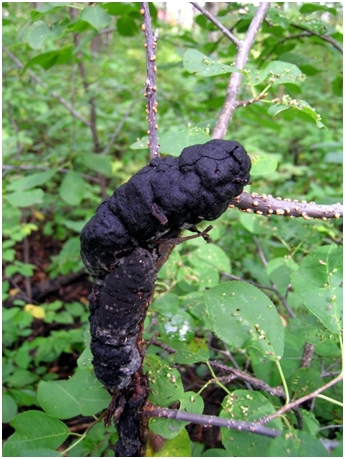 Black Knot Fungus affects Chokecherry and Mayday in Calgary and has been on the uposwing the past few years. Many trees have been recently removed due to extent of infection. The disease is transmitted through the air which carries the spores to their new host. Pruning to remove the fungus should be conducted when trees are dormant (Winter).
Our Arborist Matthew Davis was recently asked for some information on this by CBC Calgary, check out the link to the story below
CBC Story on Black Knot Fungus – May 2014
Tree Damage
Forms large knots or growths of tissue infected with the fungus.
These growths eventually choke out the branch and kill it.
Control Measures
Prune to about 12 inches below point of infection.
Use proper pruning techniques or hire the services of a certified arborist.
Avoid planting susceptible species near native tree stands as it can transfer readily.